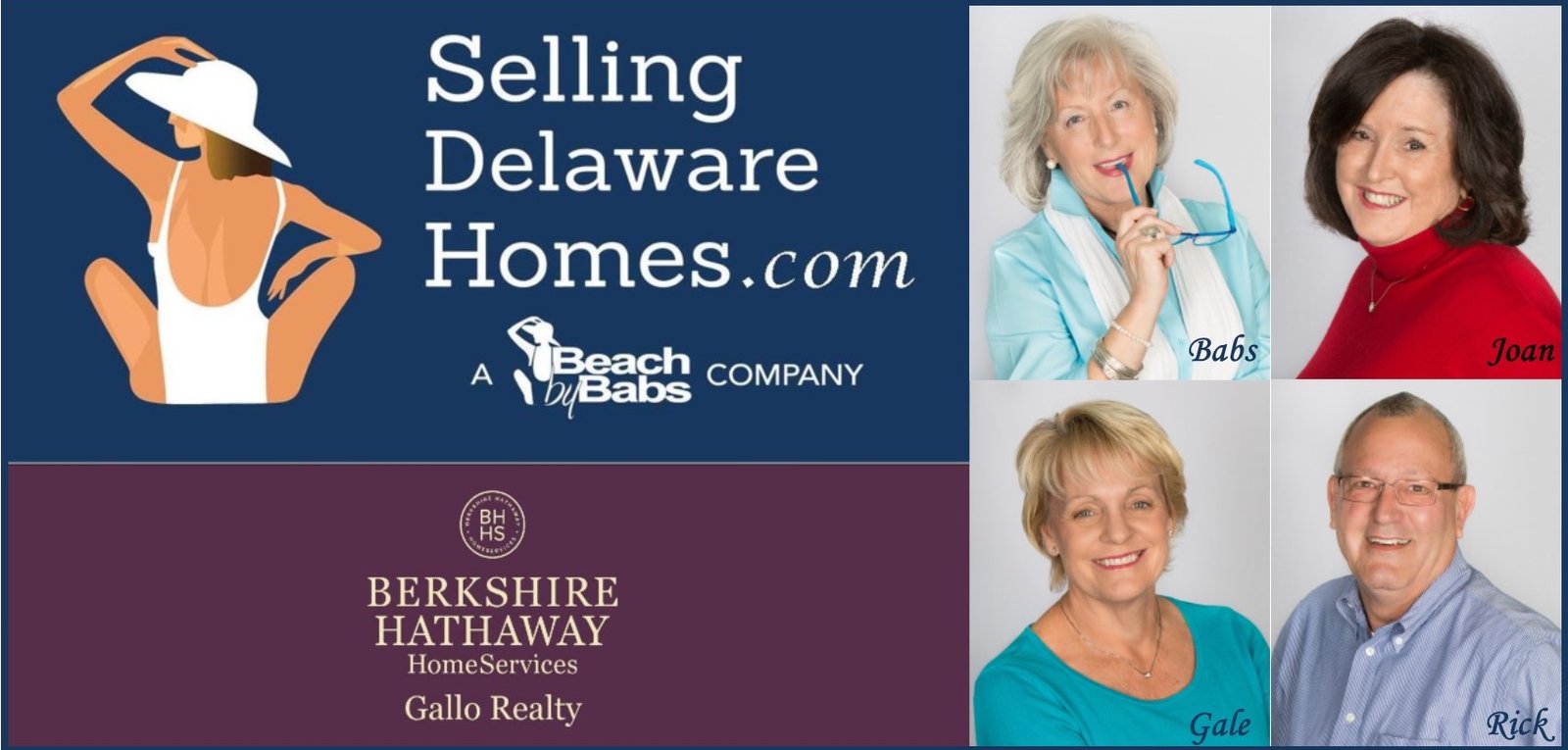 The BeachByBabs Team offers the following update in an effort to keep our Clients Informed and Safe .  .  .
Guidelines for Real Estate Professionals in Delaware
Advisory Guidance for Safe Practices for Real Estate Agents in Delaware to Comply with the State of Emergency Declared for our safety by Governor Carney.  This has been reviewed through the Division of Small Business which has the authority to issue clarifications of the Declaration of Emergency concerning Non-Essential Businesses.  Your actions impact your neighbors and your neighbors' actions impact you.  It is your duty to protect yourself and your clients.
We have the privilege of continuing a limited amount of real estate practice. With privilege comes responsibility. It is your responsibility to follow these guidelines. If you do not, we risk all being shut down completely.
No open houses. No Broker opens.
You can do what is necessary to complete sales in final stages prior to the Delaware state of emergency.
YOUR OFFICE IS CLOSED. You can work from home. DO NOT TAKE THE PUBLIC TO YOUR OFFICE. Managers, bookkeeping, administrative, and maintenance staff are permitted to be in the office only for the purpose of maintaining "Minimum Basic Operations". Agents may stop in the office to get supplies and drop off papers. Follow your broker's rules about office access.
Do everything you can to keep yourself healthy and teach others how to stay healthy. Follow CDC guidelines.
Offer sellers the opportunity to continue with showings or to change the status to Temporarily Off Market. See sample DAR form for this.
Suggest Sellers and Buyers sign the COVID-19 addendum to Agreement of Sale to allow for delays in the transaction. See sample DAR form for this.
Complete paperwork electronically except when necessary to have a "wet" signature. Whenever possible, utilize counterpart signing arrangements.
Keep physical contact with other people to a minimum. When physical contact with other people is necessary, maintain a six foot separation between you.
When possible, don't meet in confined spaces unless they have been disinfected. Meet outside if possible.
Wash your hands before you leave home and when you return. Keep hand sanitizer in your vehicle to use when returning to your car.
Disinfect your steering wheel, seat belt latches, handles, and controls.
Do not drive customers or clients in your vehicle. They should drive alone in another vehicle or with people they already have been in recent contact with such as family members or roommates.
Disinfect your phone and keyboard regularly. Do not loan your phone to someone else.
Disinfect where you met with someone after the meeting.
Prescreen potential buyers to make sure they have a need to look for a home now rather than waiting.
Do not physically meet with potential buyers or set up showings unless they are pre-qualified or pre-approved for their financing or offer proof of ability to buy without borrowing.
Use virtual tools such as high-quality photographs of listings, virtual tours, and interactive floor plans to replace initial showings and limit the number of homes that must be viewed in person.
While showing a home, wear gloves and only spend enough time for the buyers to view what they need to in the home. Go outside or in an open garage and stand apart to have conversations with buyers about the house.
Respect Sellers' requests while showing the home such as washing your hands if invited to do so, wearing gloves, and do not use the bathroom facilities of an occupied home and if you do use the bathroom disinfect the area after using.
Don't socialize face to face with your clients and others in the transaction. Keep your time together to a minimum. Be social by phone and other electronic means.
Don't go to home inspections. If the buyer can't be there, require the home inspector to take pictures of all areas commented on by the inspector in the inspection report.
Don't meet the appraiser at the home. Send information to the appraiser electronically.
Don't go to settlement unless your presence is required by the settlement lawyer. Join settlement by facetime or other electronic means if you want to be part of the process.
Use social media to show that you are acting responsibly in compliance with the Governor's orders and this Advisory Guidance, and do not entice people to leave their homes. Remember they are subject to an order to "shelter in place of residence".
For sellers who need to list their homes, you can take and advertise new listings.
For buyers who need to buy you can negotiate Agreements of Sale.
Display a positive attitude to help people through this. Do not panic, stay informed, and use your best judgment and common sense.
Buyers may travel to Delaware for settlement. They must practice physical distancing, instructions of the settlement attorney, and CDC guidelines while in Delaware. They may leave Delaware after settlement. If the buyers are going to stay in Delaware, they need to follow the Governor's order to self-quarantine for 14 days.
Potential buyers from out of state may not come to Delaware to look at properties. Buyers may "tour" the property virtually with the assistance of their real estate agent.
Real estate agents licensed in Delaware but who live out of state may come to Delaware only as necessary for real estate practice, but then must promptly return home.