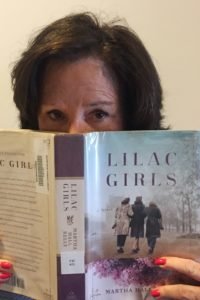 The Lilac Girls
Written by Martha Hall Kelly
Review by Joan Wallace
This book has been out since last year but we wanted to bring this to your attention and if you have not read it, you should pick it up.
This is a fascinating and very moving story about three women during World War II.  The story is told over a 20 year period (1939-1959) and alternates between the three characters – Caroline, a NY socialite who works at the French Consulate in NYC; Kasia, a Polish teenager who is involved in the Polish underground and is captured and sent to Ravensbruck (the only womens' concentration camp in Germany) and Herta, a German doctor who performs "experimental" surgery at the Camp.  It is a moving story with twists and turns which keeps you turning the pages with fascination regarding a period in our world's history which we should never forget.
What is also so interesting is that two of the characters (Caroline & Herta) were in fact real people who the author did extensive research on to build the basis of this story.  Kasia & her sister, Zuzanna, were based on two Polish sisters interred at the Camp.
Babs & I have both read this book and we highly recommend it.
We offer the highest levels in real estate expertise and professionalism. Give Barbara Morales Associates a call and let us assist you with all your real estate needs!