Browse Delaware Communities
For Events, Why We Live Here Series, What Sold, Company Updates and more . . .
Sold Properties in February 2019
Home Sales in Southern Delaware
Land Sales in Southern Delaware
*In-Town Rehoboth 
*Bethany
Stats Include All Sales Posted by All Brokers on the MLS
Info. from the Sussex County Association of Realtors MLS
*No Land Sales for the month of February 2019

Just For Fun . . .
Monthly Trivia

A. What's the Hungarian word for pepper?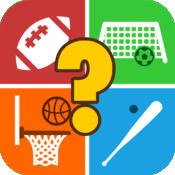 B. Which boxer inflicted Muhammad Ali's first defeat in professional boxing?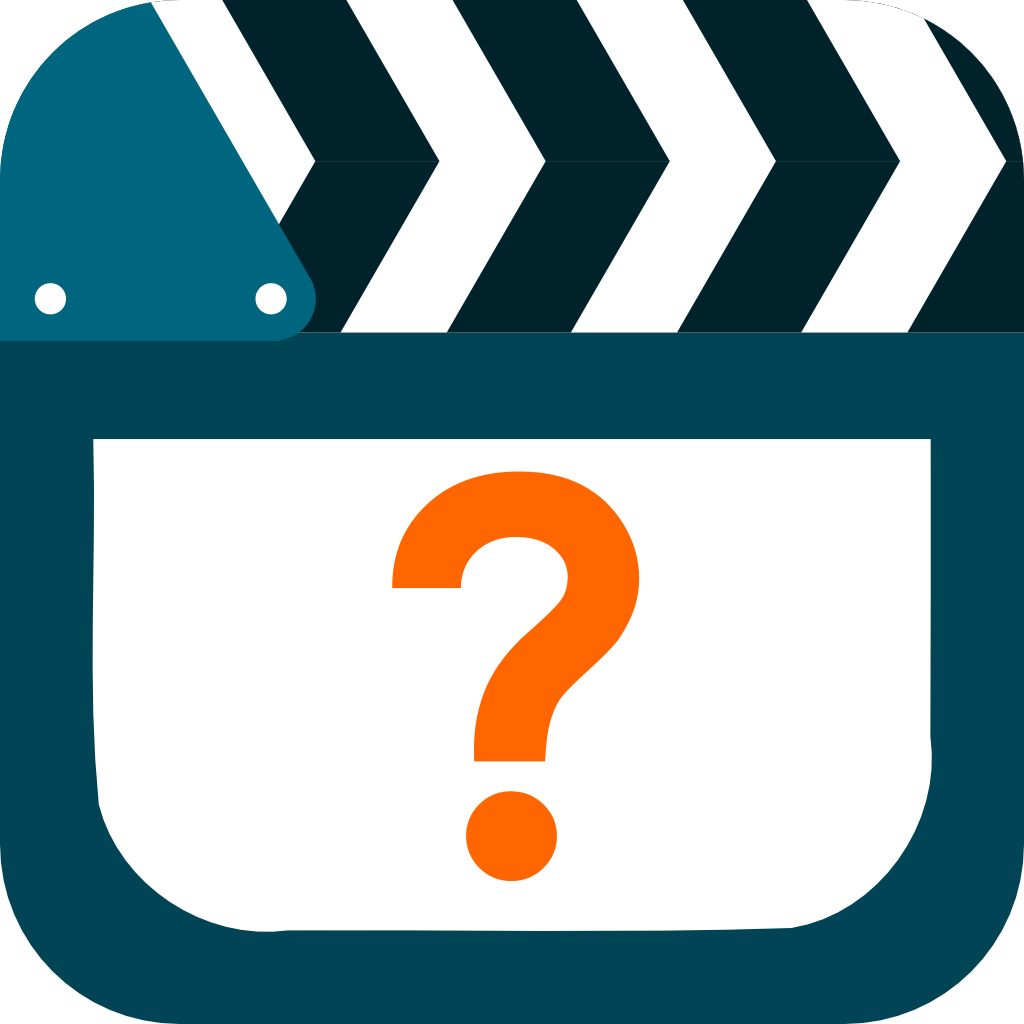 C. Which future actor dropped out of college to be a dishwasher?

Our Featured Listings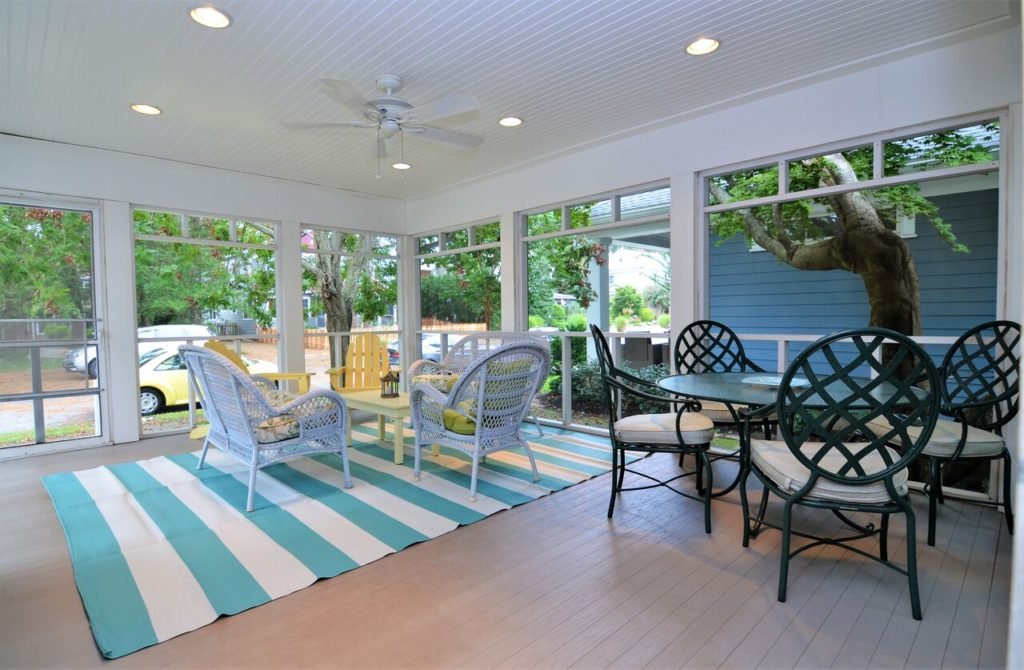 The Perfect Beach Cottage on the 2nd Beach Block! This Home is Deceiving – as it offers 5 spacious Bedrooms, including a First Floor Master and 3 Upgraded Full Baths. Enter thru a Large Stunning Screened Porch and then on to the Open Plan Living, Dining and Kitchen all with Beautiful Hardwood Floors. The First Floor offers a Master with ensuite bath and 2 guest rooms accommodated by a large hall bath. Upstairs you'll find a large loft/landing perfect for a quiet reading space or office and an additional 2 bedrooms and a large full bath.  Read More . . .
The Views are Stunning! Enjoy Golf Course and Bay Views from this newly renovated 4 Bedroom, 3 Bath Golf Course Front Home in the Country Club Community of Cripple Creek. Offering an Open Plan with Hardwood Floors, Fireplace, Granite Counters, 3 Season Porch, extensive decking, and beautiful 1st Floor Master with newly renovated master bath all overlooking the golf course and bay. Additional bedrooms on the 2nd floor along with a large deck also overlook the golf course and bay. A rare opportunity at this price! Read More . . .
Market Activity for February:
As of the end of February, there were a total of 1,842 homes on the market, an increase of 1% from the previous month's end inventory of 1,831.  This represents a 10-month's supply of inventory, with a current absorption rate of 190 homes sold per month thus far in 2019.
Closed Sales
For the first two months of 2019, sales of single-family homes in Sussex County are down from last year, with 381 homes sold compared to 412 for the first two months of 2018.  The areas with the largest increase were the Milton/Harbeson/Broadkill Area, up 15% and the Lewes/Rehoboth/Dewey Area, up 9%.  The areas with the largest decrease are the Dagsboro/Millsboro Area, down 48% and the Milford/Lincoln/Slaughter Beach Area, down 30% from last year to date.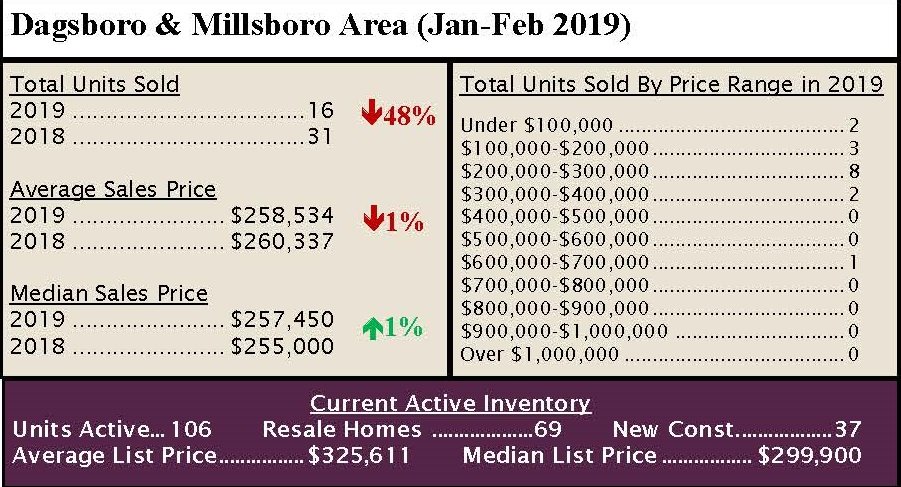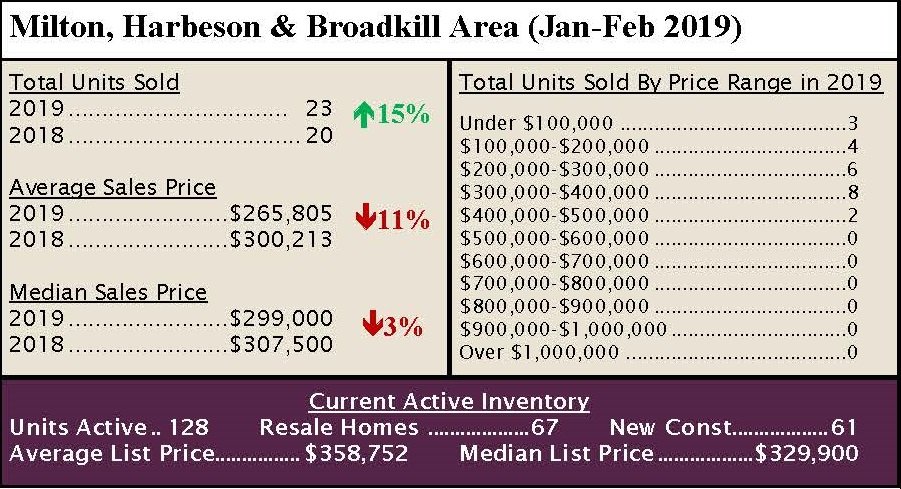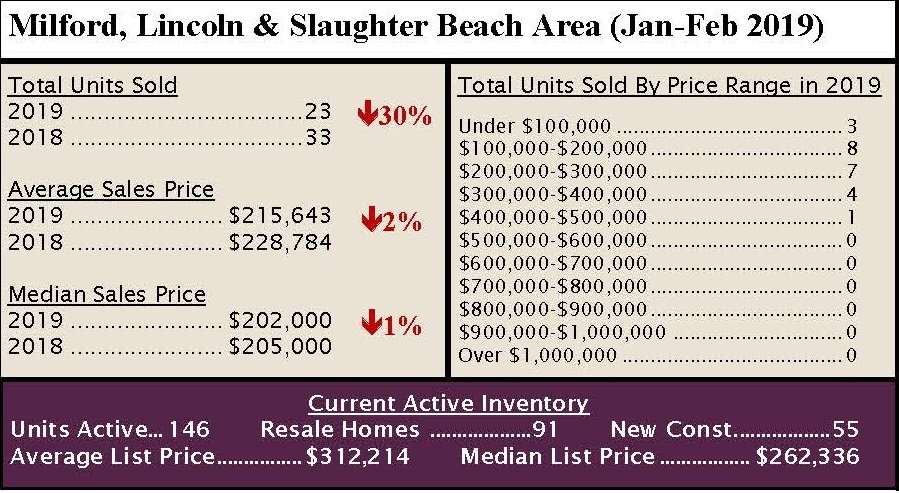 Three Ways to Get Your Finances in Shape
You want to buy a home, but first you need to get your finances squared away. You'll need money for a down payment, for moving and for other costs. How can you get more money in just a few months? Here are three ways that work together as nicely as compound interest.
1. Slow down your spending.
Like counting calories on a diet, tracking your spending can be an eye-opener. You'll identify "spending leaks" that can be easily plugged, like eating out less often or only buying items at the grocery store that aren't on your shopping list. You'll see that small changes make a big difference to your bottom line.
2. Save more.
Like spending less, setting money aside is important, too. Look at your monthly expenses and determine how much you can save, then have that money debited from your checking account and put into a savings account, a short-term CD or other vehicle with every paycheck. This account should be considered separate from your retirement savings.
3. Pay off revolving debts.
If you can't pay cash (or debit) for something, don't buy it. Focus on reducing credit card balances. Pay off the card with the highest interest rate first, make payments on time, and pay much more than the minimum payment. As you eliminate each debt, double down on the remaining cards.
Keep your goal to buy a home top of mind always, and you'll be pleasantly surprised at how quickly you can make your dream happen.
Have You Seen Our Commercials?!